Moss Landing Marine Labs
Moss Landing Marine Labs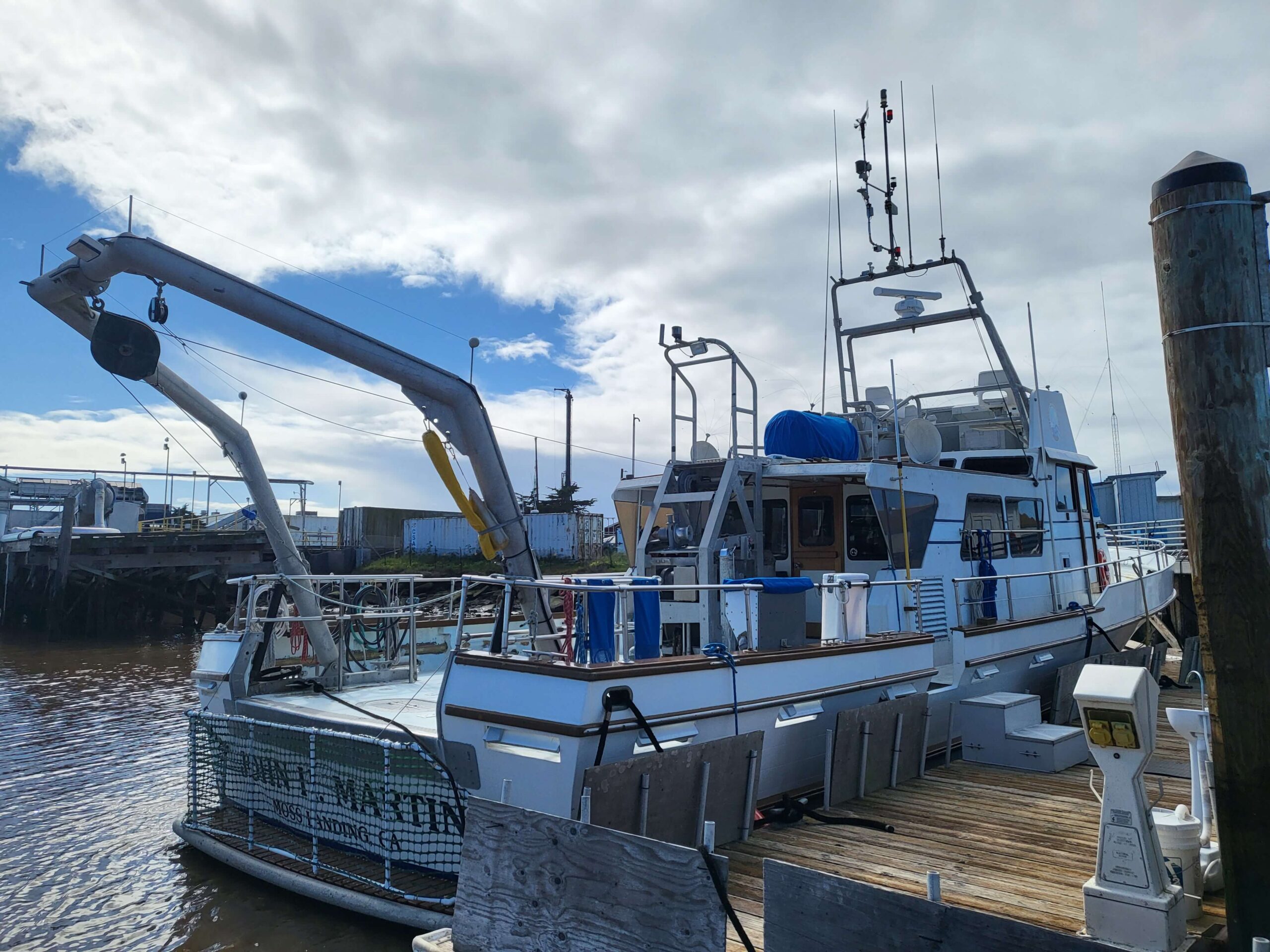 | | | | | | | | |
| --- | --- | --- | --- | --- | --- | --- | --- |
| Facility | Location | Type | Type (2) | Environment | Power | Telemetry | Other features |
| Pumphouse | 36.8006,-121.7881 | Wall-mounted flow-through raw seawater system | Shore Station | Indoor, humid | Shore (110 VAC) | Ethernet/WiFi | Co-located with Seabird CTD, Wetlabs Fluorometer, C-Star Transmissometer, Honeywell Durafet pH probe, Aanderra Optode, and Seabird SUNA V2 |
| Monterey Wharf Station | 36.6052,-121.8890 | Deck mounted reservoir. Seawater pumped vertically to refresh resevoir | Shore Station | Housed seawater or direct access to ocean | Shore (110 VAC) | Cellular | Co-located with a Wetlabs ECOFLNTU |
| RV John Martin – Science Deck | 36.8039,-121.7866 | 56-ft research vessel | Vessel | Open aft deck | 12 VDC, 110/220 VAC | WiFi | A-frame with 1000 pound lifting capacity; winch with 1000m of two-wire conductor cable with terminal in the salon |
| RV John Martin – Underway Data Acquisition System | 36.8039,-121.7866 | 56-ft research vessel | Vessel | Below deck, wall mounted flow-through | 12 VDC | WiFi, direct connect to PC | Co-located with a Seabird SUNA V2, Wetlabs Fluorometer, and Seabird temperature-salinograph |
Directed Access Monterey Bay, California
Moss Landing Marine Labs Seawater Intake Shore Station
http://pubdata.mlml.calstate.edu/seawater/index.php
Seawater is pumped from intake pipes at a depth of 14 meters below mean lower low water at the head of the Monterey Canyon. Sensors are located in the pumphouse mounted to a wall in an inline flow-through system and are set up for real-time data acquisition. Water source is raw seawater taken before pumps or sand filtration. Sensors are maintained weekly and data are collected every 5 minutes. The system is shore powered (120VAC) and is directly connected to the network. This system has been in operation since 2010.
Honeywell Durafet (pH)

Wetlabs fluorometer (chlorophyll-a)

C-Star Transmissometer (beam attenuation)

Seabird CTD (temperature & salinity)

Aanderra optode (Dissolved Oxygen)

Seabird SUNA V2 (Nitrate)
Monterey Wharf Shore Station
Seawater is pumped into a 15-gallon reservoir located beneath the commercial wharf. Sensors are housed in the reservoir and not in the ocean. Sensors are maintained bi-weekly and real-time data are collected every 20-minutes. The station features a Wetlabs ECOFLNTU (beam attenuation and chlorophyll-a) and a prototype mpHOX sensor (dissolved oxygen & pH, temperature, salinity). The station runs on shore power (120VAC) and is cellular telemetered. This station sees heavy fouling and significant wave action. 
RV John Martin
https://mlml.sjsu.edu/marineops/rv-john-h-martin/
The John Martin is a 56-foot fishing vessel converted to research. It features an A-frame & winch rated for up to 1000# and 1000m of conductor cable. In addition, the John Martin has an underway data acquisition system featuring a Seabird Temperature-Salinograph, SUNA V2 Nitrate sensor, and Wetlabs ECOFLNTU (beam attenuation and chlorophyll-a); along with a hull mounted Workhorse ADCP. This vessel is also the primary mode of transportation of a compact CTD rosette featuring dual temperature & salinity, dissolved oxygen, nitrate, beam attenuation, and chlorophyll-a. The rosette also hosts twelve 8 liter Niskin bottles with remote firing mechanism.
MLML/SJSU Aquaculture Center
Synchro/MBARI's next door neighbor is the Center for Aquaculture run by Moss Landing Marine Labs & San Jose State University. Seawater is supplied by an intake pipe located offshore at about 14m depth and passed through a sand filter to remove suspended solids. The lab is comprised of indoor and outdoor aquarium tanks of various sizes, all conducting research on algae, shellfish, and urchin (and some fish) projects. There is also facilitated access to an ocean acidification and hypoxia mesocosm system.