Hakai Institute
Hakai Institute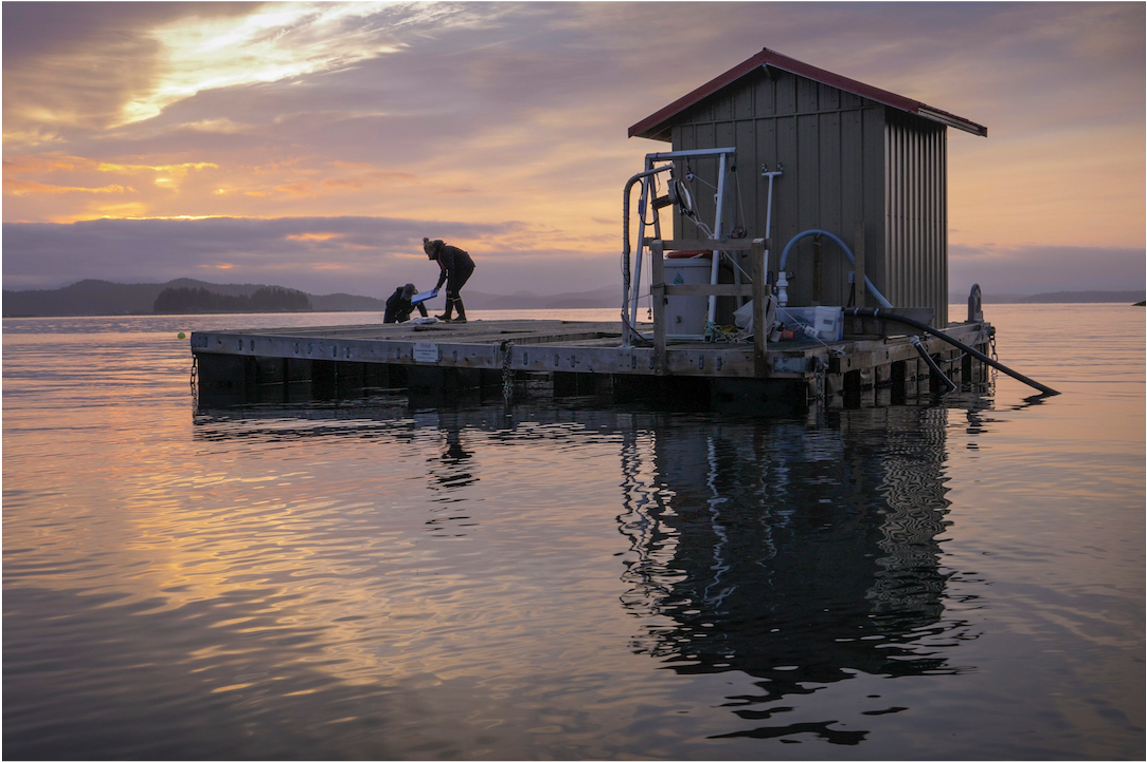 | | | | | | | | |
| --- | --- | --- | --- | --- | --- | --- | --- |
| Facility | Location | Type | Type (2) | Environment | Power | Telemetry | Other features |
| Research Raft | 50.12, -125.22 | 30×30 shellfish raft | Floating Platform | open raft in ~8 m water depth, small hut on raft for some shelter | 110 VAC | WiFi | Hosts seawater supply pump for the flow-through laboratory |
| Flow-through laboratory | 50.12, -125.22 | Laboratory facility with seawater flow through system | Wet Lab | Climate-controlled, shore-side facility. ~50 GPM seawater supply to lab with ~5-10 GPM diverted through analytical loop | 110 VAC | WiFi/Ethernet | Dedicated marine boundary layer and surface seawater CO2 monitoring location. Ancillary data include temperature (both in lab and at intake), salinity, and pressure (at intake). Weather station adjacent to the lab with winds, air temperature, humidity |
| KC buoy | 51.65, -127.97 | High latitude surface buoy | Buoy | open surface mooring | 12 VDC | WiFi | Dedicated marine boundary layer and surface seawater CO2 monitoring location. Ancillary data include temperature, salinity, pressure, oxygen, and chlorophyll fluorescence. Weather station on the buoy tower with winds, air temperature, humidity |
Directed Access Central Coast British Columbia
Buoy
This buoy is located in the mouth of an inlet on the northern end of Calvert Island. The buoy is accessed and maintained from the Calvert Field Station located about 5 miles to the west. It is a dedicated  marine boundary layer and surface seawater CO2 monitoring location. Ancillary data include temperature, salinity, pressure, oxygen, and chlorophyll fluorescence. Weather station on the buoy tower with winds, air temperature, humidity. 
Floating Platform
This platform is located in a protected bay at the very north end of the Strait of Georgia, off Quadra Island (adjacent to Vancouver Island). This system features a 30ft x 30ft raft floating in about 8 meters of water and a small hut for shelter. The raft supports the primary seawater supply pump to the onshore flow through laboratory/field station about 2000ft to the west. 
Flow through Laboratory
The seawater flow-through lab exists at Hakai's Quadra Island Ecological Field Station at the north end of the Strait of Georgia. This web lab receives raw seawater (50 gallons per minute) from the floating platform situated just offshore.
Facilitated Access
Mesocosm Lab
Hakai Institute operates a mesocosm lab at their Quadra Island Field Station located at the north end of the Strait of Georgia (adjacent to Vancouver Island). Each chamber is supplied with seawater pumped from the floating raft located immediately offshore. The system consists of a series of 240 Liter chambers with the ability to control environmental conditions. These chambers are typically booked a year in advance for short term projects lasting several weeks.